Cranial-8 Corporate Overview
Early in its evolution Cranial-8 identified a need to change from the traditional Manufacturers Representative (MR) model. Cranial-8 recognized that Manufacturers (the principals), particularly start-ups or organizations in transition needed more than just a sales outlet.
Manufacturers needed value added sales with an easy access to marketing services –in effect a seamless extension of their own organization -be it sales or marking.
Furthermore Cranial-8 recognised that Original Equipment Manufacturers (OEMs) also wanted more from the MR. Not just a seller of components but a real support service that could help them design superior products and get to market ahead of competition -consultative selling.
In order to better serve these needs two distinct, but synergistic, business emerged Cranial-8 Marketing Services and Cranial-8  Sales Services.
Cranial-8 is staffed by an experienced, mixed disciplined team. Additional talent is easily accessed via Cranial-8 Eco System Partners.
Partners include semiconductor vendors, design houses, speciality manufacturers, graphic designers, web designers, procurement specialists, project managers and low cost contract manufacturers
What's in a name
Cranial nerves are nerves that emerge directly from the brain. The Cranial-8 nerve (or acoustic nerve; Vestibulocochlear) senses sound, rotation, and gravity (essential for balance and movement).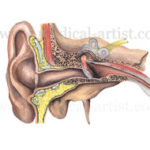 While the name was chosen to reflect Cranial-8s original product focus, it continues to have relevance today, since Cranial-8 prides itself on its ability to first listen and then provide a balanced approach in dealing with its customers and partners.