Long Term Evolution (LTE) Deployment Gains Momentum | by andrew faulkner
With the force a kin to hurricane Irene, 3GPP LTE deployment has become the fastest developing mobile system technology on record. Currently there are over 24 commercial LTE networks in 16 countries and with at least a further 91 slated for commercial service by the end of 2012. By way of a comparison, LTE received 52% more commitments than HSPA+ did during their retrospective first 12-months of service.
---
LTE technology delivers capacity and data throughput enhancements and lower latency over existing technologies. This opens up a plethora of new services and features that require higher levels of capability and performance to become commercially viable. Such applications include interactive TV, mobile video blogging, advanced gaming, and professional services.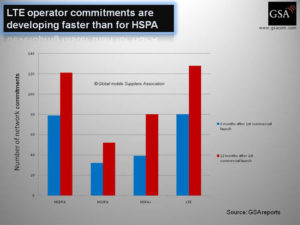 This rapid deployment is due in part to it being a natural migration path for GSM/HSPA+ network operators. LTE presents upgrade possibilities for all 3G technologies, providing a real opportunity to harmonize the mobile network across operators irrespective of geographic boundaries. Moving to a single, global network should bring considerable economy of scale benefits and simplify roaming –hopefully some of these savings will be passed along to the subscriber!,
As reported by the Global mobile Suppliers Association (GSA) in their July market / technology update, in addition to the 24 commercial services deployed a further 218 operators in 81 countries are currently investing in LTE. The breakdown is as follows;
• 166 LTE commitments in 62 countries
• 52 pre-commitment trials in 19 countries
Deployment in North America is tracking this overall trend with the recent announcement by Verizon (Converge! Network Digest, v18n158). The company announced that it had expanded its LTE wireless broadband coverage to fifteen additional markets, and expanded coverage in ten cities where LTE has already been launched. According to a Verizon press release, the company's LTE network now covers 117 markets and 160 million Americans – or more than half the U.S. population. Verizon plans to have 175 markets served by LTE by the end of the year. AT&T is playing catch up with its first commercially available deployments not live until late 2011, with full nationwide coverage by 2013. T-Mobile USA is also committed to LTE roll-out but its plans have been somewhat complicated by the proposed AT&T take over. Several other, second tier operators including MetroPCS, BayRICS, Cellcom, Cellular South, CenturyTel and cable operator Cox Communications, to name just a few, have either made commitments, started trials or actively deploying LTE in the regions they serve.
LTE is not just another wireless standard, its high data rates allows it to become a true replacement for wired systems. This is of particular interest in remote rural areas that don't have access to cable or fibre services. This fact was not lost on Agri-valley Broadband who was the first NA wireless carrier to announce plans for rural LTE deployment. The company is planning to provide a LTE based broadband service to over 30 counties in Michigan.
Similar paced deployments are taking part north of the boarder too. In April Rogers announced LTE would be available in Ottawa followed closely by Toronto and Montreal. TELUS also announced in April that it would build its LTE network during 2H 2011. Not to be left out Bell Canada has LTE trials underway, although formal commercial service announcements have yet to be made. Other operators, within Canada, are busy with HSPA+ deployments stating that this will provide an easy upgrade to LTE.
At long last it final looks like the wireless world has got its act together and that much fabled ubiquitous network, is becoming a reality. With it comes increased bandwidth, a whole host of new applications, and perhaps most important of all cost efficiencies -in hurricane terms this would clearly make LTE a veritable category 1.

About the author: Andrew Faulkner is the owner of Cranial-8. Andrew holds a Masters of Business Administration (MBA) from the Open University, UK and a Higher National Diploma (HND) from the University of Central Lancashire.   Andrew is an experienced marketing and business development executive with a proven track-record in Strategic Planning, Product Life-Cycle Management, Market Communications and account development.